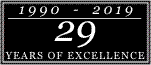 TABLE OF CONTENTS

Screen-Storm Doors - Compare these Features

We recommend you consider these very important features if you are comparing the quality and value of our doors with others'.

Mahogany
Superior Construction
Method of Retaining Screens and Storms
Removable Charcoal Aluminum Screens
Removable Tempered Glass Storms

Mahogany

For a door to be trouble-free and long-lasting it should have strong joints, but it should also stay straight and flat with minimal expansion and contraction. With this in mind, we use a kiln-dried, pattern-grade species in the mahogany (Meliaceae) family including Honduras (swietenia macrophylla) or African (khaya ivorensis).


The instability characteristic of woods like pine and poplar is what causes doors to swell and stick in the summer and shrink in the winter. This cycle of expansion and contraction also leads to cracks and splits. In most parts of the country, exterior doors are subject to extremes in temperature and moisture, making mahogany the best choice for a long life.

We use mahogany because of these properties, but it is also a beautiful wood when finished naturally. It does, however, remain our first choice for a painted door as well, as painting does not prevent the problems associated with wood movement.
Superior Construction

Our doors are a full 1¼" thick and have mortise and tenon joints which are epoxied and pegged through with mahogany pegs. We start with pattern grade, kiln-dried, rough-sawn mahogany, and we proportion each door individually, according to its size, and will work with you on fine-tuning the features of our door to complement the features of your entry door.
We are a small woodworking shop and making these custom doors is our specialty.

Our customers often express surprise at our level of service, craftsmanship and attention to details such as rounding every sharp edge and hand-sanding each door to a fine, smooth finish.


Every door is designed to accept interchangeable screen and storm panels. We offer you a choice of white or dark bronze aluminum screen and storm frames. These sit in a rabbet on the inside of the door, flush with the door and visible only from the inside.

We choose not to cover these frames with a wood picture frame moulding, like some companies do, because we think less is more when it comes to maintenance and life of the door. If we think it's easy to break or can trap dust and moisture, we don't use it in our doors.

This is the philosophy that guides us in our choice of door construction techniques and fretwork styles. You won't see delicate suspended ovals or brackets, that we think are easily breakable, or applied mouldings, that invite problems with moisture and decay. Doors get constant use and abuse and exposure, and we design with this in mind.
Method of Retaining Screens and Storms

The simplest and least expensive method for the doormaker is to use plastic or metal turn clips that are screwed into the door. These not only detract from the appearance of a custom wooden door but can eventually strip out or break off.

Our solution is to drill holes in the frames of the screens and storms and install corresponding metal threaded inserts in the door that will accept brass machine screws and finishing washers. This is not only a more aesthetic, secure and long-lasting solution, but it also provides a remedy to sagging and wavy screens by allowing them to be stretched tight before being screwed down. Remove screws with a flat head, slotted screwdriver.

Removable Charcoal Aluminum Screens

We use charcoal aluminum screening that will not oxidize like bright aluminum. It is sturdier than fiberglass screening, which is prone to tearing and can be chewed by insects. When your screen needs to be replaced, simply remove it from your door and take it to your local hardware store or glass shop for re-screening. For an upcharge, we also offer bronze screening.

Removable Tempered Glass Storms

We use only eighth-inch clear, tempered safety glass for our storm panels, NOT plastic (Plexiglas), which is easily scratched, can crack and can cause an unpleasant distortion of view. The storm panels will keep the elements outside and your heat (or air conditioning) inside.